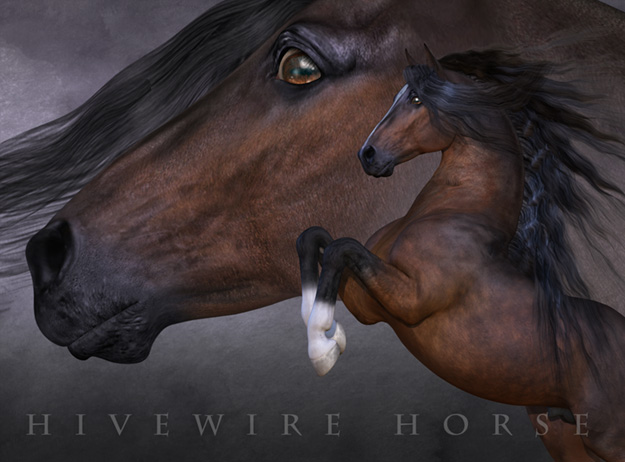 I am VERY excited to be able to finally announce the eagerly anticipated arrival of the HiveWire Horse. Many of you have been following "Harry's" progress over the last 6 + months at the HiveWire Forums. (Check out the metamorphosis of "Harry" from the raw beginnings here. It's pretty amazing! Also there are previews of things to come as well for "Harry" posted there as well.)
It all started as a dream of mine, and I inspired the incredibly talented modeler Chris Creek –co-founder of HiveWire and modeler of the ground-breaking Dawn– to give it a try. I had given him a list of everything I loved and everything that frustrated me to no end about the Daz Mil Horse and Daz Horse 2 and we went from there.
It was a given we would make him native for BOTH Poser AND Daz Studio. We are also working on MANY more products for "Harry" that will available not too far down the road. Those will also be both Poser and DS native.
I will be posting new video blogs in the weeks to come to show just WHY "Harry" is so revolutionary and how easy he is to pose- even in much more extreme poses and more. And all of his great expressiveness- Chris went out of his way with my guidance to really make Harry have a REAL face with LOADS of beautifully made and accurate facial morphs to give you LOTS of options. The mane and tail are fully rigged for limitless posing options – something that has never been done before – Thanks to Paul Lessard/CG Cubed! The fetlocks are also poseable, again, never done before! And the eye and muzzle areas are the most realistic to date with LOADS of morphs to make Harry all your own.
"Harry" is on introductory sale now through May 25 -Also grab my Pose Pack 1 for him to get a fast start with Harry, also on intro sale through May 25, Buy both and get FlintHawk's Pose Pack free!
Stay tuned and Happy Rendering!
Laurie