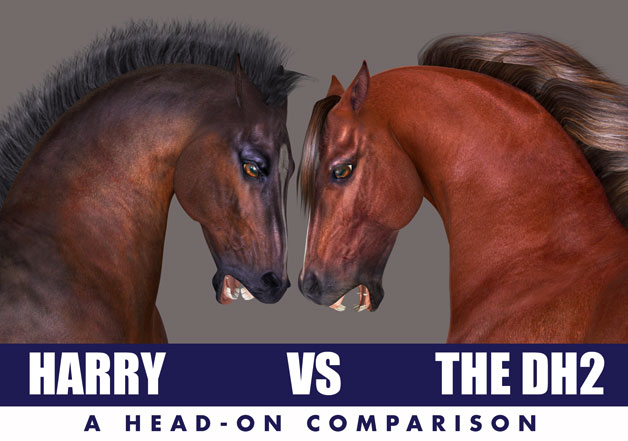 I am going to show you the differences between "Harry" (HiveWire Horse from HiveWire)  and the DH2 (Daz Horse 2 from Daz).  I found it interesting as I haven't worked at all with the DH2 since last October or so, so my impressions of him now are somewhat fresh/I had forgotten a lot about him. I plan on going into some real depth here but there is so much to show this should be considered a good solid overview. I will be also posting some videos as well in future posts to show some specific items that are best shown in motion/real time. All images were done using limits turned on with the exception of the DH2 eye, which can not be opened much without turning off limits. The renders are all done in Daz Studio with very basic lighting as it easier/quicker for me personally to use the DH2 in DS. The DH2 texture is a WIP Chestnut of my Ultra DH2 textures. Harry is showing off his base Bay coat with socks and stripe. Harry will have MANY new coats for you play with in future.
So I will start by saying all the images in this post can be seen full size by clicking on any image. I did that so you can see a pretty full screen of each image to make your own decisions about the two.
First is a very definite comparison and is totally a personal preference- The DH2 is Daz Studio native and does work in Poser 9+ using the Daz program DSON. Harry works natively in both Daz Studio 4.6 and Poser 9+. Personally I use both programs and feel they both have their pros and cons. This is NOT a blog post about Poser over Daz Studio or vice versa.
Next I will talk about general workflow with each. One of my biggest grumps with the DH2 is the use of very low hard limits to bends etc. Yes one can go in and turn off limits for any parameters, but hey what a pain by the time you go through a LOT of them which you will end up doing if you try to pose the DH2 in anything but pretty mundane poses, more so in Poser.  At one time that was going to be a blog post about the DH2- TURN OFF LIMITS!:)
With Harry, I talked with Paul Lessard of HiveWire about making sure to set generous hard limits. I did a lot of early testing of his first round of rigging and said good on this, that needs a higher limit there, etc. One can still turn off limits but I bet you will rarely ever need to.
The Pose and Shaping Controls aren't massively different- the main difference is that Harry has SO many more options and they have a very logical and easy navigation in both Poser and DS.
The Mane and Tail for the DH2 are separate conforming figures. With Harry they can be applied separately or load all at once. Harry also includes (poseable) fetlocks which the DH2 does not. With both, the Materials are applied to the mane, tail etc.
So let's get on to some the details.
The DH2 showed HUGE improvement over it's precursor, our beloved old Mil Horse, especially in the case of joints and bending. Harry takes that one step further with the addition of a bending pelvis-in addition to the hip; 8 bones to the neck as opposed to the DH2's 3 bones to the neck; 3 bones to the abdomen as compared to 1 in the DH2, etc. I encouraged both modeler Chris Creek and rigger Paul Lessard, both of HiveWire, to visit their neighbor's horses and really study the joint bends of a real horse. The result is more accurate and realistic bends, twists and sides to sides. In addition Harry with his 8 neck bones has the ability to really move his neck realistically in a wide range from side to side, which has never seen before in a horse model. (This pose by Paul is included with Harry, BTW…)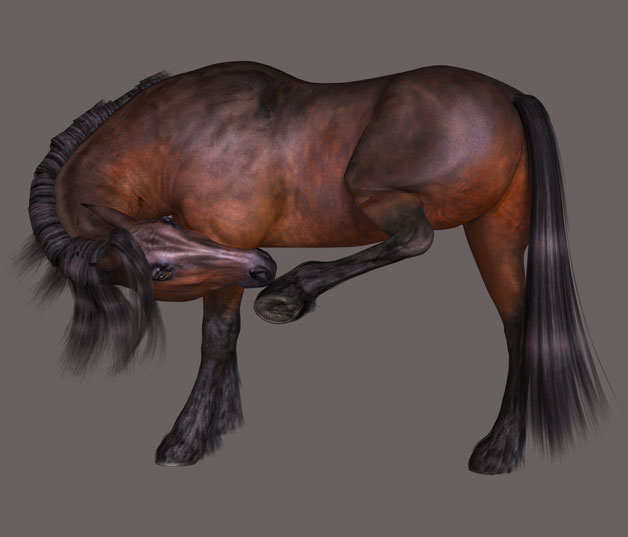 Here are a couple of renders showing poses using bending etc to compare how they bend etc: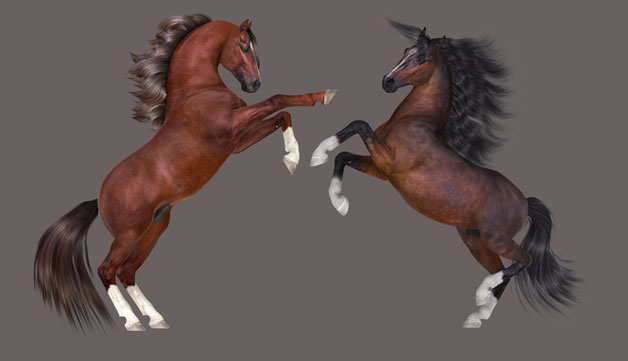 The DH2 base model is based on the Quarter Horse; Harry is an amalgam of Morgan and Warmblood,  and other Baroque breeds such as the Andalusian etc. We all decided we wanted a more up-headed and refined look for base Harry and used these breeds as our inspiration. That said, Harry will be available in these breed morphs down the road: Foal, Draft, Friesian, Arabian, Thoroughbred, Mustang, Quarter Horse, Shetland Pony, Unicorn, Mule, Zebra and Donkey (and some other hooved animals as well!) All of the breed morphs are beautifully modeled by Chris Creek with input from myself and FlintHawk, as well as several other artists in the HiveWire Forums; and will take full advantage of all of Harry's rigging and morphing; unlike the old Mil Horse foal.
One thing I was very disappointed in when the DH2 came out is Daz didn't really change the head/face/facial expressions and they even made the eye and nostrils worse than the Mil Horse's, in my opinion. The Mil Horse still has a prettier head in my own opinion. Pretty much any image I've ever made with the Mil Horse or the DH2 I postworked the lackluster eye. This is another area Harry REALLY shines. He has a gorgeous base head with a LOAD of options for shaping and posing his head, giving a much more realistic expressions and making post work unnecessary. He also has a much wider range of realistic expressions. Here is a close up of the two heads – I will let them speak for themselves: (Remember you can to click on the image to see a full screen view). Also check out the full screen view of the first image in this post- it was made to show off a comparison of expressions.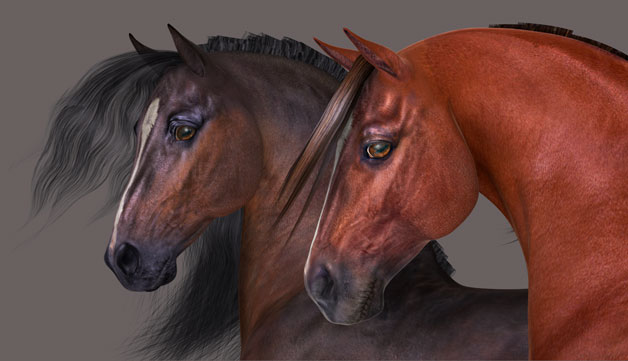 Next, let's talk about the manes and tails etc. Many people were very put off by the fact that the DH2 mane uses a very long "bridle path", often seen in Arab and Morgan show horses. The mane and forelock have very limited posing/shaping abilities and one has to use off/on buttons for a few available styles. The tail is fairly good and has much more pose and shape abilities. The DH2 has no fetlocks. One selects the mane or tail to shape and pose each.
Harry has an immense range of pose and shape abilities especially for the mane and forelock. The tail also features many more options for shaping and posing than the DH2. And Harry has poseable fetlocks. Also included are utility poses to turn on and off parts of the fetlocks as well. All posing of the mane and tail and fetlocks too is done under "Body"- making it so when you save favorite poses  you make, it saves ALL of the posing of the mane, tail and fetlocks as well! Decide you don't like the mane pose anymore but like your body pose? Included are utility poses to "zero" the body of the horse, the mane, the tail and the fetlocks, all separate, any time.
With the DH2 if I wanted to redo a mane or tail pose I would just delete the current mane or tail, load a new one and start over again.
Here is a render showing Harry in a very simple mane/forelock pose. The DH2 shows the limit of the mane left posing and length. To see many more mane and tail poses, see my promo images for my HW Horse Pose Pack HERE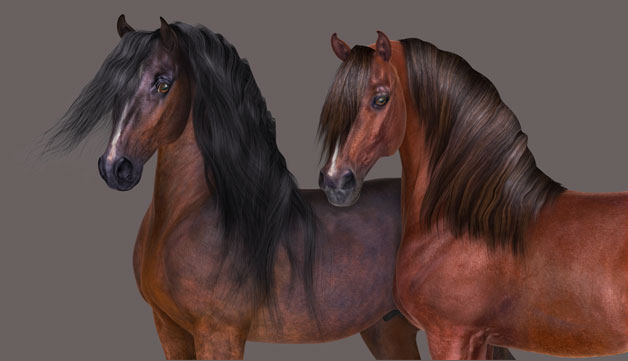 So there is SO much more to show about Harry and I will be doing that with blog posts and videos over the next few weeks as I can fit them in. (I am still VERY busy working on so many things Harry! Textures, tack, breed morphs and much more).  Let me know what questions you might have and if there are specific comparisons, areas etc you would like to see in future posts, etc.
Til then,
Happy Rendering!
Laurie